Mattress Disposal: The Best Ways to Recycle Your Old Mattress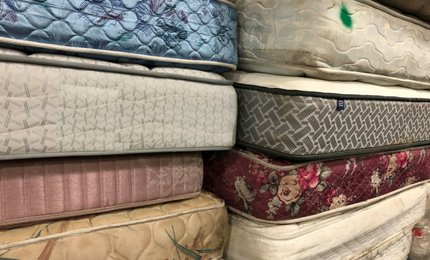 Perhaps you are wondering about the best ways to recycle your mattress. You may not be able to effectively dispose of it. So, you need to use the best mattress disposal service in your area. If it's your first time recycling a mattress, there's no need to worry. This article has you covered.
We're here to help you and give you the right tips on how to recycle your mattress without causing environmental pollution. If you need a reliable mattress disposal service, you can call Rubbish Inc. and rent a 20-yard dumpster!
Why Should You Recycle Your Mattress?
Studies have shown that an average of 50,000 mattresses is dumped daily on landfills aside from other bulky items like couches, sofas, recliners, etc.
Interestingly, you can still recycle about eighty percent of these mattresses.
The landfills are overflowing, and there's only so much they can hold.
When landfills become full of old, new ones are made, further destroying animal habitations and reducing land that could have been used for more useful purposes.
Once you're ready to replace or upgrade your mattress, consider recycling it rather than disposing of it at your local dump.
Mattresses pose a lot of problems on the dunghills, some of them include:
Mattresses are made from non-biodegradable materials, so they spend years in the landfill without ever decaying
Mattresses are made from chemicals such as hydrocarbon, which can easily leach into nearby soil and underground water.
They are also heavy and difficult to deal with in the landfills.

How Is Mattress Recycled?
In case you're wondering what happens to your mattress at the recycling center or company? You'd be amazed how much can be derived from your old and uncomfortable mattress; check them out below.
Recycling a mattress involves shredding and disintegration of the bed's components and repurposing them or reusing them as a raw material in the production of new items.
Your bed or mattress consist of many materials can be used in the production of other items such as:

Metals – Metals such as the bedsprings and coils from the mattress can be melted to make new items such as iron rods, doors, and other metallic items.

Foams – you can shred foams; your foams from the mattress can be shredded into small fragments that can be used to produce moving pads, carpet paddings, and fuel sources.

Wood – The woods can be shredded for mulch or burned as a source of fuel

Fibers and Fabrics – The fibers and cotton fabrics can be used in making insulators, filters and can also be burned as fuel.

How do I Recycle My Old Mattress?
There are several recycling centers in the USA. So, it's advisable to get a reliable recycling company.
Dumpster companies like Rubbish Inc. have the services to help you recycle your old mattress.
The International Sleep Product Association also has a lot of mattress recycling centers across the United States.
Search for the mattress recycling company nearest to you, put a call through to them, and make arrangements for the recycling of your mattress.
While many of these recycling facilities allow individuals to drop off their old mattresses and pick them up for a minimal fee, other recyclers would only accept beds from retailers and manufacturing companies alone.
Next time you want to buy a mattress, you can check to see if the retailer has a partnership with any mattress recycler.

What to do if there's No Recycling Center close by?
If you reside in a place with no mattress recycling center close by and there is no community recycling scheme, here are other environmentally friendly alternatives to repurpose your mattress.
Sell it off
If your bed is still clean, neat, and in good physical condition, one very good way to repurpose your mattress is to sell it for a small fee. You can sell it locally in your neighborhood, or you can list it for sale online on some classified e-commerce websites like Offer up, craigslist, garage sales, etc. can help you find another owner for your mattress.
Donation
You can consider donating the old mattress to charity centers, furniture banks, domestic abuse shelters, homeless shelters, refugee homes, or any other establishment that accepts mattresses as donations.
You can also donate your bed to animal shelters if your mattress is not perfect but still in clean or sanitary shape. You can also check websites like Earth911.org, DonationTown.org, and others to search for places in need of mattress donations.
Recycle the Mattress Yourself
Another eco-friendly thing you can do with your old mattress is to recycle it yourself by breaking it into its part and taking to places where each component is used.
Some of these companies can even pay you a little free; places like scrap metal recyclers will pay for your bed spring and coils.
Repurpose Your Mattress
You can also repurpose your old mattress by using some of its components for other home purposes. You can use the foam as pet beds, make floor and cleaning rags from the fabrics, etc.

Final Note
Recycling your mattress is environmentally friendly. So you should keep that in mind when next you buy a new one or need to dispose of an old one.
You can now sleep comfortably and peacefully, knowing that you have helped to reduce carbon footprints in the environment, reduced pollution, conserved useful resources, and extended the lifespan of the existing landfills.
Recycling your mattress is a very convenient, easy, and simple thing to do. In some cases, it can also fetch you a few bucks.
We can all live in a healthier environment if we embrace this friendly and convenient alternative to disposing of mattresses.
RUBBISH INC. Dumpster Rental
925 S Capital of Texas Hwy
Building 2, Suite 125
Austin, TX 78746
(512) 298-5445
https://g.page/rubbish-inc-dumpster-rental?share
https://maps.google.com/maps?cid=12361221284898300217
https://www.google.com/search?q=rubbish+inc+dumpster+rental&kponly=&gmid=/g/1pv603l_q
https://sites.google.com/view/dumpsterrentalaustin/home