Residential Dumpsters – It's Not Just for the Construction Pros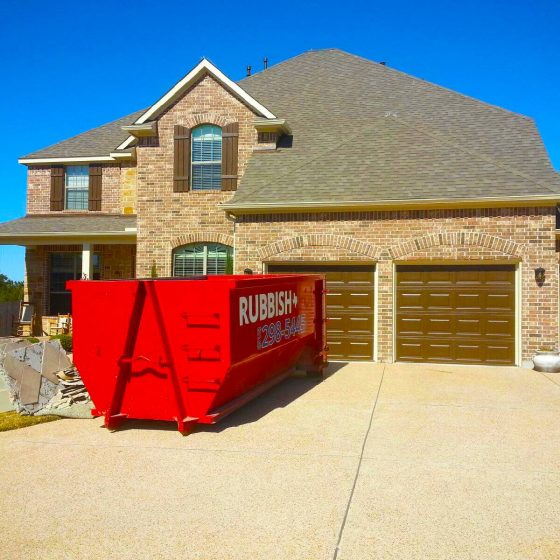 Have you ever passed by a construction site with a dumpster and thought to yourself, "If I had a dumpster like that, I would clean the junk out of my house fast!"
There's no reason why you can't! The vast majority of large waste containers are used in a commercial setting for the purpose of construction site debris cleanup. However, a residential dumpster rental is an extremely useful tool in residential cleanup projects ranging from the crazed Spring cleaning housewife to home remodeling and renovation projects. So, stop procrastinating! At Rubbish Inc Dumpster Rental, we're not just for the construction pros anymore!
What is the Difference between Construction Dumpster Rental vs Residential Dumpster Rental?
Construction dumpster rentals are designed to accommodate both the weight and size needed for the sheer volume of waste and debris a major construction project produces. The larger sizes you would generally see on a construction job site are between 20 to 40 cubic yard dumpsters with up to a 10,000 lb capacity. Typically, these contractor dumpsters are filled and hauled away several times before the job site and final cleanup has been completed.
On the other hand, residential dumpster rentals are engineered to offer many of same capabilities and acceptable types of debris as a construction dumpster – but with the convenience of additional size ranges for small scale residential projects. The residential dumpster rentals available at Rubbish Inc are considered 10 to 20 cubic yards with up to a 4,000 lb weight capacity.
The advantage a residential dumpster rental provides is that it gives homeowners an efficient and size-manageable solution to rid your household of unwanted waste, debris and clutter in one convenient location for a very affordable price.
What can I Throw into a Residential Dumpster Rental?
A residential dumpster rental is a perfect solution to safely and quickly haul away nearly any common debris a home can contain – which is a lot! But basically, you can throw away just about anything into a residential dumpster rental except prohibited items which contain materials considered hazardous waste like; eWaste (electronics), are corrosive, toxic or flammable. Additionally, food waste should be disposed of through municipal waste disposal services or composting methods due their ability to attract vermin and foul odors your neighbors would find highly offensive.
Renting a residential dumpster with Rubbish Inc also means there is never a need to sort your recyclables, either. We sort and properly dispose of recyclables for you! Just toss it in and we'll take it from there. This means you can dedicate more of your time getting the job done and less time fiddle-farting around with the small stuff.
Mini dumpster rentals are homeowner and landlord friendly. It doesn't matter if you're cleaning out the garage, renovating an apartment or old house, interior demolition from remodeling the bathroom or chucking yard debris. Residential dumpsters are extremely versatile, easy to load and perfectly sized. One call takes care of all your junk removal needs.
Where do I put a Residential Dumpster Rental?
Residential dumpsters are sizably smaller than construction dumpsters – making them less space restrictive. However, there are important factors to take into consideration.
Which you size do you need?
Available space to place it
Weight of the container and your trash
Accessibility to deliver, load and remove
Regulations and permits local municipalities may require
Our staff can help answer these questions with confidence while we walk you through the process quickly and efficiently. Don't hesitate. Complete your next residential project today. You can do this!
Contact our service professionals today!
512-298-5445




Rubbish Inc Dumpster Rental
925 S Capital of Texas Hwy
Building 2 Suite 125
Austin, TX 78746
512-298-5445

https://g.page/rubbish-inc-dumpster-rental?share