Things to Know About Renting Dumpsters and House Flipping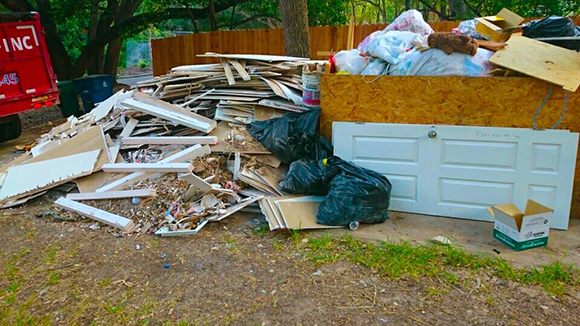 As a home or business owner, you want to keep your yard clean, especially if your goal is house flipping. But finding a dumpster to throw away your garbage, dirt, and debris can be a little tricky, especially if the yard is big or a particular project entails large amounts of garbage disposal.
To curb the problem of waste disposal, you might consider renting a roll-off dumpster.
What are The Benefits of Renting Roll of Dumpsters?
Several companies like Rubbish Inc. offer roll-off dumpster rentals for yard waste removal. Renting one of these roll-off dumpsters can prove beneficial for both your business and the environment. Some of these benefits are:
It Increases Your Chances of Flipping a House
When flipping a house, it is essential to make an excellent first impression. The first impression matters a lot, especially if you want to turn a profit. Who would want to stay in a property full of yard waste? Nobody, right?
By renting a roll-off dumpster, you will be able to contain your waste, ensuring that your property is clean and attractive.
Garbage and debris from the house will be easy to contain, which means that the environment will be clean. With a clean environment, it will be much easier to flip a house.
Profits will be high, and you will realize more success in your business.
It Reduces the Risks of Accidents
Imagine walking through a property full of garbage and yard waste.
Piles of debris, paper, household trash, and other items carelessly lying around the property, leaving you no space to walk. It leaves a messed-up image in your mind, right?
Having exposed trash lying around your yard exposes all those using the property to the risk of accidents.
You might trip and fall, and the chances of being badly hurt by the trash lying around are high. You might be subjected to deep cuts, especially if the yard has broken glass, metal, or debris, and such injuries would need medical attention.
Renting a roll-off dumpster will prevent the trash from just lying around. It will minimize the risks of accidents resulting from tripping over garbage. Your yard will be safer for everyone using it because dangerous trash and debris will be collected and stored away in one precise location.
It Reduces the Risk of Infections
Waste materials present a considerable risk of causing illnesses and infections to everyone around the area. Many diseases that result from poor hygiene, such as cholera and typhoid, may stem from unattended garbage, especially if the trash is exposed to any water sources.
There is a high risk of exposure to diseases and infections by living around exposed and unattended garbage. Furthermore, pests, insects, and organisms will quickly breed in this trash.
Insects and pests, such as houseflies, mosquitoes, rats, and other rodents, thrive best in such unattended conditions. When they contact a water or food source, or even a person, they could transmit infections that put a person's health at significant risk.
By renting a roll-off dumpster for yard waste and junk removal, you will minimize the chances of breeding pests and insects that carry and cause diseases. That way, you will reduce the risk of contracting diseases and infections, which might take a heavy toll on your health and finances.
It is Eco-Friendly
Disposing of waste is good for the environment. It prevents land pollution by containing waste, water pollution by preventing toxic material from polluting water sources, and air pollution by ensuring that the waste is disposed of safely, reducing the carbon footprint.
Using a roll-off dumpster for yard waste disposal safeguards the environment better. Since the waste is collected in a strategic place, it is easy to pick up and dispose of the trash in a single trip. By doing so, the carbon emission is minimized, reducing the carbon footprint. It helps reduce air pollution and global warming.
It Reduces Exposure to Litigation.
The government has set laws and directives that govern safe environments and garbage disposal. And in the house flipping business, you will be subject to these laws. You will be required to provide your workers and staff who improve the housing conditions before the sale with a safe environment.
Besides, there are state and federal requirements for realtors to meet before flipping a house, and proper garbage disposal is one of these requirements. By not observing proper garbage disposal, you will be subject to lawsuits which might prove expensive for your business.
By renting a roll-off dumpster, it will be easier to contain waste reducing the chances of violating the set rules and regulations.
What you Should Know When Renting a Roll-Off Dumpster
As stated above, there a plenty of companies that rent roll-off dumpsters for garbage disposal. Therefore, renting a roll-off dumpster is easy.
However, there is a catch. You might want to know a few things before investing your money in renting a dumpster.
Here is what you need to know:
Prices Differ
Different roll-off dumpster rental companies have different prices for renting a dumpster. There may be several different roll-off dumpster rental companies depending on your location.
If you live in a large city, there will be a large variety of companies from which you can choose. And to ensure that you get the best deal, it is essential to contact two or three different companies to compare their prices. It will help you save money and get the best deal out of it.
Dumpster Sizes Differ Too
Not all roll-off dumpsters are the same. Some tend to be bigger than others. Typical dumpster sizes are 10, 20, 30, and 40-yards, and therefore, it is essential to understand your requirements before renting a roll-off dumpster.
Typically, it is best to pick a slightly larger dumpster than you think your projects will require to account for an increase in your waste disposal. It will help you avoid the unnecessary costs of having to rent another dumpster because your current one is full.
Know the Type of Items That are Allowed for Disposal
There are set rules regarding the items one can dispose of in a roll-off dumpster. It is essential to read the company's policies regarding garbage disposal before using the dumpster to avoid legal issues with the company or state. The most common prohibited disposal items include paint, car batteries, flammable material, tires, oil, and Freon. If you have doubts about a particular item, contact the company for clarification. It will help you avoid litigation.
Renting out a roll-off dumpster for yard waste removal is beneficial for your house flipping business. It will help you maintain the environment better, attracting more clients to the house.
It also helps reduce the instances of litigation regarding improper waste disposal and safeguard the environment from pollution. When planned for dumpster rental in Austin for house flipping, it is vital to know a few things, such as the different prices for renting the dumpster, the different dumpster sizes available, and the items that are allowed for disposal. Understanding all these things will save you money, time, and frustration.